Departure in morning from Ouarzazate by 4x4 to the Skoura,  crossing the old palmary of the village  with its amazing old Kasbah and palm groves. But before a optional visit of Taourirt Kasbah in your ''City without noise'' Ouarzazate.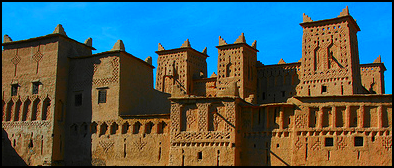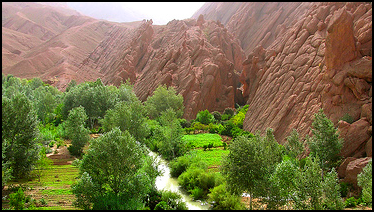 Next step will be the Rose valley, famous of rosewater and crèmes for the beauty. It is extracted from Damascena Rose which you find in some expensive perfumes, skin care, body care, cosmetic, hair caring, medicine etc. In May people celebrate the harvest of roses in a festival.
Continue our tour to the Dades gorges with a pause for a closer look at the monkeys' fingers rocks across the river. This is followed by a walk along the river.
Lunch in Toudra valley, special place for the lovers of trekking and climbing the mountain. It has beautiful ksours and mountains along 15 km of palm groves.
Arrive the spectacular Toudra gorges of 300 m high and to enjoy a little walk near the shallow river of Toudra.
Return back  in the evening  to  Ouarzazate and transfer to your hotel or riad.