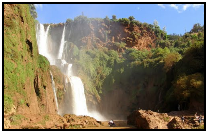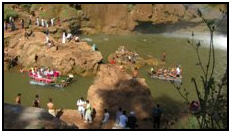 This day trip start  around 8.00 am in Marrakech. From where we will progress towards the mythical Atlas, not far from Marrakech (160 km).
A garden in the middle of nowhere surprising. Clay soils are cracked by drought, miles of plains and drylands and suddenly... a green path appears in the distance. They are the largest waterfalls and the most mighty of Morocco. One hundred and ten meters of free fall. Below you can camp. Water falls from the top and hit rock fades creating a rainbow to filter the light rays. A natural spectacle and magic.
Ouzoud waterfalls are one of the most attractive and Middle Atlas in Morocco. Upon arriving at his bedside, the waterfall will reveal a surprising sight and thunderous.
A visit to the waterfalls of Ouzoud can be a refreshing trip a day or an experience of a weekend of relaxation. Discover a magnificent waterfall and a beautiful landscape full of the most varied fauna.
After lunch, tour the splendid trails that surround the bed of the waterfalls and 16:30h return to Marrakech.